HKS - POWER EDITOR - FK8
£250.00
HKS - POWER EDITOR - FK8
Power Editor is the next generation boost controller that enables the boost pressure increase of the vehicles equipped with the electric or negative pressure control type actuators.
Installing this Power Editor between the boost pressure control sensor and "ECU"can activate the boost increase function of this product.
The reset connector is included. Connecting the connector can reset the data to its original after installing this product.
Easy Writer for Power Editor can edit the data easily
※Easy Writer is NOT included in the product. Download Easy Writer from HKS website.
The USB connector is included to connect this product with a PC.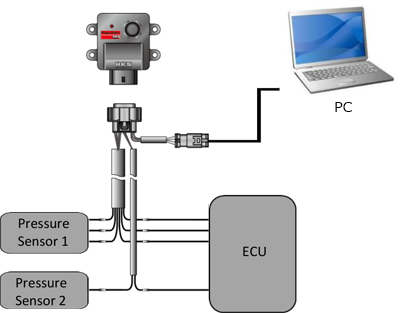 Main Functions
Boost pressure increase for turbo vehicle:
To increase the boost pressure of a stock vehicle.
Status Confirmation LED:
To check the unit status by LED.
Edit the boost increase data:
To edit the data to user's original data to increase the boost pressure.
※PC with Windows10, 8.1, 8, or 7 is required.
Features
With the setting data using Easy Writer, installing this Power Editor between the boost pressure control sensor and "ECU" can activate the boost increase function of this product.
Connecting Power Editor to a PC using the provided USB harness can change the data to the one edited by Easy Writer for Power Editor to increase the boost pressure.
Replacing Power Editor with the provided reset connector can reset the data to the original and easily check the difference
Precaution
Setting by Easy Writer is required after installing this product.
This product is applicable to the vehicle equipped with the boost pressure control sensor.
Excessive boost increase may cause serious damage to the engine and/or turbine